Final Paycheck Requirements
Rules For Final Paychecks
There are a number of states that require employers to give a departing employee his or her final paycheck within a specified time period. For instance, some states require that departing employees get their last paychecks on their final day of work. In other states, the time limit depends on whether the employee voluntarily quit or was fired.
As such, employers should be aware of the final paycheck laws in their state(s), as there are often penalties for violating the final paycheck laws.
Bottom line? Don't be caught unaware! Read the additional information below and/or take one of our recommended training sessions on final paychecks.
Training For Final Paycheck Requirements
Featured Course
:
Payroll Requirements For Terminated Employees
This training session helps payroll personnel to understand and properly comply with their obligations to properly pay – and abide by the plethora of laws affecting – terminated employees.
By attending this audio conference you will learn: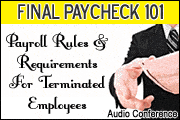 The timetable for how quickly your employees have to be paid in each state where you have workers

The payroll tax consequences of payments made to an employee as part of a severance or layoff

The difference between providing wage continuation versus lump sum severance

Whether severance can be used when determining the benefits an employee will receive from the Unemployment Office

How Supplemental Unemployment Benefit Plans be used to decrease the costs associated with severance payments

How wage continuation and lump sum severance payments affect unemployment insurance benefits.

Whether severance is taxable or non-taxable

How the new Stimulus Act effects the provision of COBRA to those employees that have been terminated

How to identify any areas of concern prior to an external audit or an audit by another group within your company

How a review can help you detect internal control issues
More Details / Order
:
http://www.PayrollTrainingCenter.com/showWCtDetails.asp?tcid=1000388
Find Other Training Courses
Find Seminars, Webinars, And Online Training In Your Area
More About Final Paycheck Requirements
What Should Be Included In A Final Paycheck

The final paycheck should contain the employee's regular wages from the most recent pay period, plus other types of compensation such as commissions, bonuses, and accrued sick and vacation pay.

Employers can withhold money from the employee's last paycheck if the employee owes your organization.

Can A Final Paycheck Be Paid Via Direct Deposit?

Various states have requirements re how - and when - an employer must pay final wages. For instance, many states allow employers to pay final wages via direct deposit if an employee previously authorized direct deposit for wages, but these states often have rules regarding the timing of such payments. As such, definitely check your state's requirements.

For more reading or research, go to http://www.dol.gov/whd/contacts/state_of.htm or http://smallbusiness.findlaw.com/employment-law-and-human-resources/final-paycheck-laws-by-state.html