Workers Compensation Training Courses
About Our Workers' Comp Training Courses: Seminars, Webinars, And Online Training Courses
Benefit from live instruction! The Payroll Training Center offers basic, intermediate, and advanced level classes to meet your every need! We offer online workers compensation training courses, in-person seminars in multiple cities across the country, and a variety of webinars. Click the applicable links to see the course or format that best fits your needs.
Workers' Compensation Training Seminars
Workers' Comp Training Seminar

When an employee is injured at work, Workers' Compensation benefits are available to cover lost wages and medical costs related to the injury. Whether those benefits spiral out of control or are properly managed depends on you - and your administrative prowess.

By attending this two-day seminar, you will learn:



Which workers are - and aren't - covered by Workers' Comp

What kinds of injuries and illnesses are - and aren't - covered by Workers' Comp

Your organization's rights and responsibilities for Workers' Compensation

The "whats", "wheres", "hows", and "whys" to successfully managing a Workers' Comp claim from injury to resolution

Tips for handling the interaction/overlap ADA and FMLA laws have on Workers' Comp claims

How to plan for - and prevent - certain types of claims

How to prevent injuries and facilitate a safe culture in your workplace

The signs of Workers Comp fraud - and how to prevent it from impacting your bottom line
Workers' Compensation Training Webinars
TrainingCenter offers a variety of workers comp training courses for you and your co-workers. Simply click on a link below for more details or to order a specific workers' comp training course.
Online Workers' Compensation Training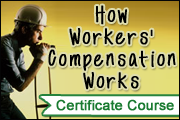 How Workers' Compensation Works

Learn the basic concepts in workers' compensation with our workers compensation online training classes! This self-paced, online course teaches how a state's statutory legal structure fits into the bigger picture by understanding insurance policy coverage, premium calculations. and coverage issues.
---
Find Other Workers' Compensation Training Courses
Either select one of the featured courses below or use the search box to find other Workers' Comp training courses.
Find Seminars, Webinars, And Online Training In Your Area