Payroll Paycards
How To Use Payroll Paycards
Paycards are payroll debit cards that enable employers to pay employees through payroll direct deposit even if they do not have bank accounts.
For most employer programs, prepaid debit card programs are free and of little to no cost for individuals. If workers have no credit or don't have a bank account, they can still apply for debit cards as long as you the employer or benefit provider offers direct deposit. The prepaid debit cards have no enrollment, no activation, no loading and no monthly or annual card fees.
Recommended Training Course For Payroll Paycards
Featured Course
:
Payroll Paycards: How To Save Costs AND Maintain Compliance
More and more companies are starting to use Payroll Paycards, which is essentially a debit card to which an employee's pay is deposited.
This training session covers the why's, how's, and regulatory issues regarding Paycards. For instance, the majority of state labor laws allow employers to offer direct deposit, but they don't allow employers to mandate that their workers participate in their direct deposit programs.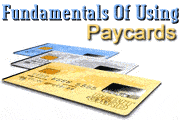 By attending, you will learn:
The definition and benefits of utilizing paycards

The potential downside of using paycards

The states that have enacted legislation either for or against the use of paycards - and what the legislation states

Whether or not an employer can mandate the use of paycards for their workforce

What you do if you are a multi-state employer and you want to launch a program for your entire worker population

How to roll out a paycard system to your employees if you have decided to initiate a paycard program
More Details / Order
:
http://www.PayrollTrainingCenter.com/showWCtDetails.asp?tcid=1000340
Find Seminars, Webinars, And Online Training In Your Area