Find Training By Topic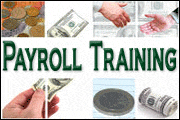 Payroll Training Courses
From how to properly handle travel pay, fringe benefits, and multi-state taxation to garnishments, InPat/Expat payroll, and what to do with unclaimed paychecks, the PayrollTrainingCenter.com has your payroll training needs covered. We offer numerous courses and certifications to help improve your career as a payroll professional.
Find Seminars, Webinars, And Online Training In Your Area
Questions? Email or call us at 770-410-1219 at any time.