Final And Unclaimed Paychecks Laws In California
Final And Unclaimed Paychecks Laws In California
>>>
About Final Paychecks Laws In California
State and federal law requires that employers give departing employees their final paycheck within a specified time period or - if a paycheck goes unclaimed - to follow state escheatment rules. The rules in California for both are included below.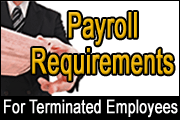 California's Requirements For When To Send Final Paychecks
California employers are required to provide the final paycheck as follows:
If The Employee Quits:
Within 72 hours or immediately if the employee gave at least 72 hours notice
If The Employer Terminates The Employee:
Immediately
What Should Be Included In A Final Paycheck In California
The final paycheck should contain the employee's regular wages from the most recent pay period, plus other types of compensation such as commissions, bonuses, and accrued sick and vacation pay. Employers can withhold money from the employee's last paycheck if the employee owes your organization.
For More Info On Final Paychecks
For more about Final Paychecks, go to
https://www.payrolltrainingcenter.com/payroll-requirements-for-terminated-employees-wt1000388
>>>
About Unclaimed Paycheck Laws In California
Amazingly, departing employees don't always collect all wages owed to them. Unfortunately, as a payroll professional, that becomes your problem.
Technically, unclaimed paychecks are subject to 'escheat' laws as unclaimed property under the laws of the state where the employee last worked. This means that employers are required to follow their state's laws for submitting unclaimed paychecks to the state. Not doing so can subject employers to fines and penalties.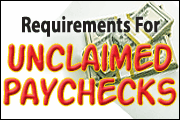 California's Requirements For Unclaimed Paychecks
The following are the reporting and recordkeeping requirements for California's unclaimed paycheck laws:
Recordkeeping Requirements
Employers must keep records of unclaimed wages for seven years, and must permit the state controller to examine wage records upon request
Reporting Requirements
California employers must report and remit unclaimed wages annually. Typically, the report for unclaimed wages must be sent before Nov. 1 of each year for wages unclaimed as of June 30 of that year
With regard to recordkeeping, California employers should speak with their legal counsel to determine processes and procedures re how many attempts the employer should make to contact ex-employees.
For More Info On Unclaimed Paychecks
For more about Unclaimed Paychecks, go to
https://www.payrolltrainingcenter.com/rules-for-unclaimed-paychecks-wt1000338
Recommended Training Courses For Final And Unclaimed Paychecks:
Find Seminars, Webinars, And Online Training In Your Area
Contact Info For Final And Unclaimed Paycheck Requirements For California
Division of Labor Standards Enforcement and the Office of the Labor Commissioner
455 Golden Gate Ave
9th Floor
San Francisco, CA 94102-7004
844-522-6734
www.dir.ca.gov/contactus.html
Q & A About Final And Unclaimed Paychecks
Q: Can A Final Paycheck Be Paid Via Direct Deposit?
A: Various states have requirements re how - and when - an employer must pay final wages. For instance, many states allow employers to pay final wages via direct deposit if an employee previously authorized direct deposit for wages, but these states often have rules regarding the timing of such payments. As such, definitely check with your legal counsel and/or your state's requirements.
Q: What Payments Should Be Included In A Final Paycheck?
A: Depending upon the state, in addition to wages, the final paycheck might include vacation, severance, and any other payments due the ex-employee. Be sure to check with your legal counsel and/or your state's requirements.
Q: What Should Employers Do If They Cannot Find The Ex-Employee?
A: Unclaimed paychecks are subject to escheat laws as unclaimed property - which means that employers cannot just keep the check/unused funds.
Q: Are There Penalties For Not Forwarding Uncashed Payroll Checks?
A: Yes. Failure to comply with state regulations can result in audit assessments, significant interest accumulations, and criminal penalties. In fact, many states are looking at unclaimed wages as a source of revenue - and your organization could be that source!
Q: Is My Organization Subject To Penalties From Other States?
A: Yes. The laws of the state where the employee last worked apply. Organizations with corporate headquarters in one state and employees in other states could be liable for penalties in all states that they have employees. As such, employers should return any uncashed paychecks to the state where the person last worked.
References and Disclaimers
:
This information is based on a variety of state laws and regulations, and is subject to change. The PayrollTrainingCenter makes every effort to make sure this information is current and accurate, however, the PayrollTrainingCenter is not engaged in rendering legal or professional advice and shall not be held responsible for any inaccuracies contained herein.
Paycheck Fundamentals Training & Certification Program