I-9 And E-Verify Training
I-9 Training And E-Verify Training Courses
The 1986 Immigration Reform and Control Act (IRCA) requires all U.S. employers to verify the identity and work authorization or eligibility of all individuals, whether U.S. citizens or not, hired after November 6, 1986
Employers are required to do this by completing the Employment Eligibility Verification Form I-9, either on paper or online, for all employees.
IRCA also prohibits employers from discriminating against any person (other than any unauthorized alien) on the basis of national origin or citizenship status in hiring, discharging, recruiting or referring for a fee, assignment, compensation, or other terms and conditions of employment.
The I-9 Employment Verification process cannot be used to "pre-screen" employees, and the obligation to review documents is not triggered until a person has been hired. FYI, The Department of Homeland Security (formerly the Immigration and Naturalization Service) defines "hired" as "the actual commencement of employment of an employee for wages or other remuneration." The employee must complete Section 1 or the I-9 Form by the date of hire.
I-9 Basics
The basic I-9 law is called IRCA (Immigration Reform and Control Act) was enacted in 1986. It has two main requirements of employers:
(1) Hire only persons authorized to work in the United States, and
(2) Do not discriminate on the basis of citizenship status or national origin.
IRCA is the United States' initial employment eligibility verification (EEV) program and it has grown into a complex labyrinth of regulations with multi-faceted and multi-agency government enforcement.
The initial employment eligibility verification (EEV) I-9 law was enacted as a means to shift to employers the burden of controlling unauthorized immigration into the United States. Employers are required to complete a Form I-9 verifying employment eligibility of all employees. The philosophy apparently is "if undocumented immigrants can't be hired absent work authorization then the economic incentive to illegally enter the U.S. will no longer exist, and illegal immigration will stop".
E-Verify Basics
I-9 compliance and E-verify require employers to verify all workers' employment eligibility, or work authorization. Persons not authorized for employment, including undocumented foreign nationals (or "illegal immigrants") generally do not have work authorization.
Employer failure to verify employment eligibility, and to properly complete and retain I-9 Forms subjects the company to stiff penalties, including imprisonment, asset forfeiture, more. Further, executives, officers, managers, supervisors, key employees, and accountants are liable personally for civil and criminal penalties for I-9 related errors and unlawful employment eligibility verification practices.
Recommended Training Courses For I-9 And E-Verify Training
Top Ten I-9 Mistakes To Avoid
Though the Form I-9 is only one-page, there is a 65-page handbook issued by the U.S. Citizenship and Immigration Services (USCIS) explaining how employers should execute the form - and even that guidance leaves many questions unanswered.
Unsuspecting employers are often surprised to learn that failure to execute an I-9 properly can lead to steep fines, penalties, and even criminal liability.
This training session provides no-nonsense, practical training on what every employer must do to meet the federal government's requirements for employment verification.
Participants Will Learn
: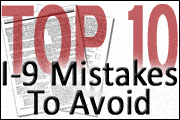 How to execute an I-9 properly

Top ten mistakes to avoid in completing an I-9

How to maintain, store, and destroy I-9 records
More Details / Order
:
www.PayrollTrainingCenter.com/showWCtDetails.asp?tcid=1000305
---
Find Other I-9 and E-Verify Training Courses
Please select from the following list or use the search box below to find other training courses on this topic.
Find Seminars, Webinars, And Online Training In Your Area