How To Handle Wage Garnishments
Garnishment Training
A wage garnishment is any legal or equitable procedure through which some portion of a person's earnings is required to be withheld by an employer for the payment of a debt.
While most garnishments are made by court order, commonly for child support, other types of garnishments include IRS or state tax collection agency levies for unpaid taxes and federal agency administrative garnishments for non-tax debts owed the federal government.
The amount of pay subject to garnishment is based on an employee's "disposable earnings", which is the amount left after legally required deductions are made.
Employers should note that Title III of the Consumer Credit Protection Act prohibits an employer from discharging an employee whose earnings have been subject to garnishment for any one debt, regardless of the number of levies made or proceedings brought to collect it. It also limits the amount of employees' earnings that may be garnished in any one week.
Title III applies to all individuals who receive personal earnings and to their employers. Personal earnings include wages, salaries, commissions, bonuses, and income from a pension or retirement program, but does not ordinarily include tips.
For Additional Reading/Research
:
http://www.dol.gov/compliance/guide/garnish.htm

http://www.dol.gov/dol/topic/wages/garnishments.htm

http://www.dol.gov/compliance/topics/wages-garnishment.htm
For Training On How To Handle Garnishments
Featured Course
:
Garnishments 101: Processes For Handling Garnishments Properly
As with all of the federal and state laws, garnishment rules and regulations that must be followed to the letter - and with the constant threat of penalties for violating any one of them - it's no wonder why processing each and every garnishment is such a daunting task.
Therefore, understanding the correct process for handling garnishments, even before you might have to deal with one, is of the utmost importance, and one we'll help you conquer in this training session.

Learning Objectives

By attending this informative training session, you will learn: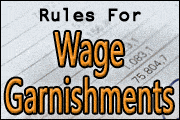 State and federal law regarding garnishments
What is the difference between a garnishment and a levy
How to identify and define the various types of garnishments and levies
What are the typical garnishments received by the payroll department and how should they be handled?
What is disposable income and the order of priorities when multiple garnishments are received
For multiple garnishments on the same worker, determining which gets priority
Helpful tips to assist in your garnishment processing
How to properly handle terminated employee garnishments
How to calculate the withholding and prioritize the order of distribution when an employee has more than one type of garnishment
Best practices for processing garnishments
More Details / Order
:
http://www.PayrollTrainingCenter.com/showWCtDetails.asp?tcid=1000337
---
Find Other Garnishment Training Courses
Use the search box below to find other training courses on this topic.
Recommended Training Courses:
Webinars Or Audio Conferences
Find Seminars, Webinars, And Online Training In Your Area
About Payroll Wage Garnishments
How To Process Garnishments

Garnishments are part of the payroll process. Employers receive a notice telling them to withhold a certain amount of their employee's wages for payment, and cannot refuse to garnish wages. Employers must correctly calculate the amount to withhold, and must make the deductions until the garnishment expires.

Employers should note that states often have varying rules for garnishments, so they should be sure to know the rules for their state(s).