How To Handle Payroll Wage Garnishments
Payroll Garnishment Training
Learn The Payroll Garnishment Rules For Your State
A wage garnishment is any legal or equitable procedure through which some portion of a person's earnings is required to be withheld by an employer for the payment of a debt. The six basic types of garnishments are for child support, federal, state, or local levies, creditor garnishments, and student loans, with the largest amount of garnishments being for child support.
Employers should be aware or employer garnishment rules, that states have various garnishment laws, and there are often penalties for violating these laws. Don't be caught unaware! Read the state-specific information below and/or take one of our recommended garnishment training courses.
For Training On Payroll Garnishment Rules - And How To Handle Garnishments
Featured Course
:
Garnishments 101: Processes For Handling Garnishments Properly
As with all of the federal and state laws, garnishment rules and regulations that must be followed to the letter - and with the constant threat of penalties for violating any one of them - it's no wonder why processing each and every garnishment is such a daunting task.
Therefore, understanding the correct process for handling garnishments, even before you might have to deal with one, is of the utmost importance, and one we'll help you conquer in this training session.

Learning Objectives

By attending this informative training session, you will learn: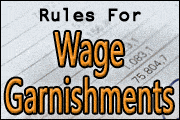 State and federal law regarding garnishments
What is the difference between a garnishment and a levy
How to identify and define the various types of garnishments and levies
What are the typical garnishments received by the payroll department and how should they be handled?
What is disposable income and the order of priorities when multiple garnishments are received
For multiple garnishments on the same worker, determining which gets priority
Helpful tips to assist in your garnishment processing
How to properly handle terminated employee garnishments
How to calculate the withholding and prioritize the order of distribution when an employee has more than one type of garnishment
Best practices for processing garnishments
More Details / Order
:
http://www.PayrollTrainingCenter.com/showWCtDetails.asp?tcid=1000337
---
Featured Course
:
Paycheck Fundamentals Training & Certification Program
The Paycheck Fundamentals Training & Certification Program helps beginning and intermediate HR professionals learn the basic payroll requirements.
The Program includes plain-English descriptions of the various requirements, processes, and procedures, as well as numerous examples, administrative tips, and interactive Q&A to help provide valuable insight into compliance requirements. The Program also includes an optional test for those who wish to earn the "Certified Paycheck Fundamentals Administrator" designation. This Program also qualifies for eight hours of PHR and SPHR re-certification credits!
What You'll Learn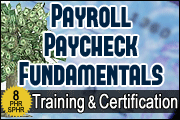 Besides the basics, you will also learn to:
Identify, pay, and withhold taxes for employees
Handle deferred compensation, cafeteria plan, sick pay, and other compensation
Properly provide stock options, expense reimbursements, relocation, and other "expenses"
Follow the proper policies, procedures, and documentation requirements for garnishments and levies
More Details / Order
:
https://www.payrolltrainingcenter.com/paycheck-fundamentals-training-and-certification-program-ot1000061
---
Other Payroll Garnishment Training Courses
Either select a recommended course below or use the search box to find other payroll garnishment training courses.
Recommended Training Courses:
Webinars Or Audio Conferences
Online Training Courses
Find Seminars, Webinars, And Online Training In Your Area
About Payroll Garnishments: Employer Garnishment Rules & Guidelines
Employer Guidelines For Handling Garnishments
Employers generally have to notify the debtor in writing that a wage garnishment is about to start before sending payments to the creditor. The wage garnishment then typically continues until the debts are paid off or otherwise resolved. Employers are required to provide employees with a copy of garnishment paperwork.
Is There A Limit To How Much Can Be Garnished?
The amount of pay subject to garnishment is based on an employee's "disposable earnings", which is the amount left after legally-required deductions are made. Employers should be aware that there are two general types of garnishments, one for child support and one for creditors (commonly referred to as "levies").
Re child support orders, the maximum amount that can be withheld runs between 50 (if the employee is supporting another spouse and/or children) and 65% (if the employee is not supporting another spouse and/or children and is at least 12 weeks in arrears in making support payments).
Re levies, many states apply the "25-30" rule, meaning.



The "25 Rule"
The wage garnishment order cannot take more 25% of the employee's "disposable earnings"
The "30 Rule"
The wage garnishment order can only take amounts over 30 times the federal minimum wage


Employers in states using the "25-30" rule should note that the wage garnishment cannot exceed the lesser of the two options. Be sure to check the table above to help find the rules for the states in which your organization does business.
About Child Support Garnishments
All states are required to use the "Order/Notice To Withhold Income For Child Support" notice for Child Support. This notice is designed to provide employers with key information so that they do not have to decipher unfamiliar orders/notices from different states.
Suggested Steps To Process The Income-Withholding Order/Notice
Upon receipt of the Order/Notice to Withhold Income for Child Support, the employer should:
Document the date of receipt
Determine if the order is "regular on its face" (that is, it appears to be an authentic and complete legal document)
Provide a copy of the Order/Notice to the employee if it has been issued by another state, and
Follow the terms of the order
Employers also should note that they cannot contest the income-withholding order; however, the employer should contact the issuing agency if unable to implement the withholding either because the individual named in the order is not an employee or a withholding is already in place for the child and employee.
Does An Employer Have To Honor A Payroll Wage Garnishment - Or - Can An Employer Refuse To Garnish Wages?
In most cases, the employer is required to honor a garnishment order, and can face negative actions if they don't do so. For instance, a court may enter a judgment by default against the employer for the full amount of the debtor's outstanding debt. That said, employers should note that states often have varying garnishment rules, so they should be sure to know the payroll wage garnishments rules for the states in which it does business.