Attend A Payroll Training Seminar
Benefit from live instruction! The Payroll Training Center offers basic, intermediate, and advanced level payroll training classes to meet your every need!

Classes are available in multiple cities across the country. Click the applicable links to see Agendas, cities, and dates.
Recommended Payroll Training Seminars
Featured Course: Payroll Law Seminar

What you don't know can hurt you. That's never more true than when handling payroll. The first step to complying with regulations is understanding them.

Handling payroll sounds like a simple proposition. Employees work at a certain rate of pay. You take out taxes and give them the rest of what they've earned. If only it were that clear cut. Regulations regarding special benefits and other payments turn a simple proposition into a legal landmine.

Armed with the strategies you'll gain at this seminar, you'll handle payroll accurately, legally, and with complete confidence.

Partial Agenda:

Below is just a few of the things you will learn from attending this seminar.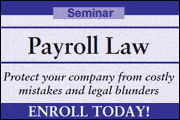 Critical steps for new hire reporting - what you must do
The most important thing to know about statutory employees
The must-do's of FLSA record keeping
When and how to tax fringe benefits
The legal ramifications of paycheck advances
When must prizes won at a company function be taxed?
Tips and uniform allowances: what's considered income, what's not?
What you're required to pay when an employee is dismissed
When to withhold tax - before or after voluntary deductions
How to handle compensation for U.S. employees working abroad
More Details / Order: