Payroll Administrator Training And Certification
Best-Selling Training Courses:
Special Promotions
Online Training Courses
Payroll Administration Training
What Is A Payroll Administrator? What Does A Payroll Administrator Do?
Any reputable organization that cares about its employees wants to ensure workers receive their paychecks on time and in the correct amount. Payroll administrators are responsible for preparing and delivering paychecks and managing aspects of a company's payroll. They also help to implement the organization's policies regarding pay-related matters. Bottom line, the job of "doing payroll" will keep you hopping!
Specifically, you'll have to know and keep up to date on wage and hour law compliance laws, know how to properly calculate benefits withholding, make payroll deductions for items such as federal and state payroll taxes, garnishments and levies, and flexible spending account deductions, then distribute paychecks (or make direct deposits).
As a Payroll Administrator, you also will have to keep track of paid leave such as vacation and sick time, any ADA, FMLA, COBRA, or Workers' Comp leave, make federal and state payroll tax deposits and returns and fill out the applicable payroll-related forms, as well as handle employee questions and concerns.
To help you accomplish all of this, we offer a 'Certified Payroll Administrator' designation, a 'Certificate Program For Payroll Specialists', and training courses on travel pay, fringe benefits, multi-state taxation, garnishments, InPat/Expat payroll, and more. Simply read or click the applicable links below for more info.
What Is Involved In Payroll Administration?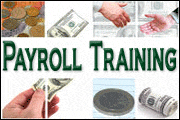 Payroll administrators typically perform several functions for their employers. While the responsibilities of the job can vary depending on the size, type, and scope of the organization, the general duties include:
Tracking and managing employee working hours
Calculating pay base pay and overtime
Applying the appropriate deductions to paychecks (such as federal, state, and local tax and Social Security withholding, retirement plan contributions, health and disability insurance payments, union dues, and wage garnishments)
Administering and tracking time-off pay for situations such as vacations, paid sick leave, FMLA, ADA, and workers' compensation
Preparing and issuing paychecks and statements (and managing direct deposits if applicable)
Coordinating with the HR department to ensure they have the correct employee information
Assisting the accounting department with administrative matters
Managing the expense reimbursement process (a typical example is traveling salespeople who incur expenses such as hotels, flights, car rentals, and meals)
What Qualifications Do I Need To Be A Payroll Administrator?
Because of the meticulous nature of the payroll process, administrators should be extremely detail-oriented and possess strong organizational skills. Mathematical proficiency is also essential, as the job involves working with figures and performing calculations. Knowledge of the tax laws as they apply to payroll is crucial for avoiding computation errors and oversights that could lead to issues with the IRS. Digital and technical skills are helpful when working with today's computer-based payroll administration systems.
Successful payroll administrators possess specific personality and leadership characteristics. These include the ability to work as part of a team, perform well under pressure, and communicate effectively.
Regarding payroll administrator education requirements, a high school diploma is a minimum standard for many organizations. A two- or four-year college degree in accounting, mathematics, business, or human resources can give job applicants a competitive advantage and could be a requirement for employment at some companies.
You also may want to earn a payroll administrator certification. Though not required to do the work, there are many benefits to becoming a Certified Payroll Administrator. Read below for both information on the certification or click a title from the Recommended Course listing below.
Best-Selling Training Courses:
Special Promotions
Online Training Courses
Find Seminars, Webinars, And Online Training In Your Area
Payroll Administrator Certification
The Value Of Payroll Administrator Certification
Individuals who choose to pursue a career in payroll administration should consider becoming certified. The American Payroll Association (APA) is a professional organization that conducts payroll administrator training that can lead to the Certified Payroll Professional designation. Earning this coveted credential offers multiple benefits:
Validates your skills and expertise in the various aspects of the payroll administrator job function
Increases your value to your company
Leads to a boost in pay in many organizations
Makes you a more attractive candidate when pursuing job opportunities
Helps you stay current on the changes in laws, regulations, and procedures that apply to the payroll function
Demonstrates your commitment to pursuing a career as a payroll professional
Gives you a feeling of accomplishment that results from achieving a challenging objective
How To Become A Certified Payroll Administrator
The steps to getting certified are:
What Does Our Payroll Administrator Program Cover?
Our online payroll administration courses address all the topics you'll need to master to earn certification and excel when performing your daily job duties, such as:
Employee expense reimbursement
Understanding the differences between employees and independent contractors as they relate to payroll administration
Proper administration of the fringe benefits your organization offers to its employees
IRS regulations regarding travel pay
Taxation for businesses with multi-state operations
Federal and state laws regarding wage garnishments
Rules regarding unclaimed paychecks
Payroll documentation and audits
Recordkeeping and reporting
Form W2, W3, and 941 reconciliation
Our online payroll administration courses provides a convenient and cost-effective training solution. It gives you access to our user-friendly interface that includes numerous tips, Q&As, examples, and other tools and resources that ensure a comprehensive learning experience. You'll gain valuable insight into the rules, regulations, policies, and procedures that directly impact your role as a payroll administrator. This program also includes:
Full access to the content for one year, enabling you to complete the course at a comfortable pace, as well as use the course content as reference material
Testing to earn your Certified Payroll Administrator credential at no additional cost
Free updates whenever changes in laws or regulations occur
For those who need SHRM or HRCI rec-certification credits, the opportunity to earn up to 32 credit hours
Other Payroll Administrator Training Courses
Below is a list of some of our payroll training webinars on specialty topics. Simply click the applicable link to more about each course.
Why Choose Payroll Training Center?
TrainingCenter brings more than a quarter-century of experience and expertise to the payroll certification program process. We have an extensive track record of helping payroll workers, as well as those in human resources, accounting, banking, and other professions, achieve their learning and training objectives.
We work with many of the most respected providers of continuing education programs to ensure our payroll administrator certification programs meet the needs of busy professionals like you. These vendors use their insight and extensive industry knowledge to create informative, user-friendly courses that serve our students well.
We also support our training programs by delivering exceptional customer service. We're available to provide prompt answers to your questions, assist you with ordering, or do whatever else it takes to maximize your learning experience.
Browse Our Payroll Administrator Certification Programs Today
Please take a closer look at our online payroll administration courses and choose the ones that best meet your career and learning objectives. If you would like additional information, please fill out and submit our online contact form or give us a call at 770-410-1219 today.