Advanced Internal Investigations Certificate Program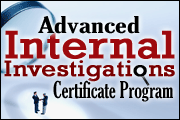 Seminar: ID# 1004013
Pricing:
$1,795.00

Early Bird: $1,595.00
About This Course:
Get Advanced-Level Internal Investigation Training - Available In Both In-Person And Video Conference Formats
Our Advanced Internal Investigations Certificate Program is an advanced course on internal investigations.
It goes beyond the basic what, why, and how of conducting an internal investigation and focuses - through both lecture and dynamic classroom discussion - on complex legal situations involving Title VII, ADA, anti-discrimination, and other regulatory areas.
You also will learn best practices for investigating FMLA abuse, work-related injuries, workers' compensation fraud, conflict of interest, and how to work with external resources such as private investigators and law enforcement agencies. Additionally, this course provides contemporary tools, advanced techniques, and best practices for conducting effective investigations that minimize organizational liability and reinforce integrity in internal processes.
Often senior leadership turns to HR for advice and counsel when there are allegations of employee misconduct, but if you don't know how to handle these issues - both immediately and correctly - it could mean fines, penalties, and expensive litigation. This advanced course is the best investment in upgrading your skills while also minimizing organizational risk.
---
Key Issues Re Workplace Investigations: Get Answers To Your Investigation Questions
---
In this two-day workshop consisting of lecture, classroom interactive exercises, and a complex mock investigation, you will develop your skills to become a better investigator - and greatly enhance your career.
By attending this course, you will learn practical tools, tips, and techniques to improve your investigative skills - and boost your confidence in handling sensitive and complex employee issues.
Specifically, you will learn:
Steps for responding to - and investigating - a potential Title VII violation

How to handle an EEOC charge

Methods for identifying and investigating workers compensation and disability fraud

How to properly investigate FMLA and other leave abuse cases

What to do when you're notified of a potential violation of anti-discrimination laws

Current issues involving the NLRB - and challenges to the investigative process

Steps for identifying - and investigating - persons who have the potential for committing an act of workplace violence

Best practices for gathering and preserving physical, digital, and documentary evidence

Steps for interviewing difficult and hostile witnesses to obtain testimonial evidence

Advanced techniques for investigative interviewing

Proven procedures for developing, acquiring, and documenting testimonial evidence

When - and how - to involve law enforcement in an internal investigation

How to prepare a "court ready" investigate report

How to handle post-investigative issues, including defending investigative finds in arbitration hearings, unemployment hearings, and insurance claims

How to minimize the risks of retaliation and expensive legal claims against the organization

Recent court cases: what went wrong, and how you can keep it from happening to you
---
Included Materials, Credits, And Benefits
---
A "Certificate in Advanced Internal Investigations"
Upon completion of this seminar, you will be awarded with a "Certificate in Advanced Internal Investigations". This certificate will become a permanent addition to your professional resume, and greatly enhance your value to your organization.

PHR / SPHR Re-Certification Credits!
This program is approved for 12 re-certification credit hours through the HR Certification Institute.

SHRM PDCs
This program is valid for 12 PDCs for the SHRM-CP or SHRM-SCP. For more information about certification or re-certification, please visit www.shrmcertification.org.
The Internal Investigations Training & Certification Program
As a seminar participant, you receive access to our Internal Investigations Training & Certification Program. This courses provide detailed specifics - including numerous examples, administrative tips, procedural recommendations, and interactive questions - for performing an investigation. Available online, it allows you to study at your pace and access materials anytime, anywhere with an internet connection. You also receive EIGHT additional hours of PHR/SPHR re-certification credits for this course
---
Additional Info
---
Class Agenda, Cities, Dates, And Times
:
Special Pricing
:
An "Early Bird" discount is offered for registrations made 30 days prior to the seminar date, so register today!
Pre-Requisites
:
Although there are no pre-requisites for attending this course, you should have experience in HR, Employee Relations, Safety, or Security/Asset Protection, and a good working knowledge of internal investigations prior to attending.
For professionals who are fairly new to investigations, it is highly recommended that you attend our
Internal Investigations Certificate Program
first, as it is designed specifically for individuals new to an investigative role.
Bring This Training To Your Location!
Organizations that need to train six or more people can have us come to you - at a savings of 50% or more. Go to
HRTrainingCenter.com/PrivateSeminar.asp
for more details.
Top FAQs
What is an Internal Investigation?
An "internal" or "workplace" investigation is a formal inquiry regarding allegations of wrongdoing to determine whether laws or corporate policies have been violated.
What typically is involved with an Internal Investigation?

Employers must know the legal obligations that require them to conduct internal investigations, how to gather documentary and physical evidence, how to effectively handle witness interviews, and how to apply discipliary action or termination.
What are some laws the require an Internal Investigation?

Common law, retaliation, Assault & Battery, Defamation, Privacy, and more.
What are the first steps in conducting a workplace investigation?

Respond promptly and responsibly, assess, plan, investigate, evaluate, conclude.
What are the risks involved with an Internal Investigation?

Several, including hostile or violent employees, retaliation lawsuits, state or federal repurcussions from broken laws, and affects on your workforce.
What are the pitfalls of a workplace investigation?

Probably the largest pitfall is the reaction of your employees, especially if the investigation is handled poorly. For instance, the company does not investigate theft allegations, tells the accused details from an accuser's accusations, and loss of profits and reputation.
Continuing Education Credits:

Click the 'Credits' tab above for information on PHR/SPHR, PDCs, and other CE credits offered by taking this course.