Workplace Mentoring And Coaching 101: Key Skills For Managers And Leaders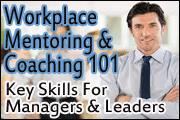 Seminar: ID# 1005062
About This Course:
Become An Effective Workplace Mentor Or Coach!
Coaching and mentoring are powerful tools for employee development. This informative one-day virtual workshop provides a comprehensive overview of best practices for workplace coaching and mentoring.
By attending this virtual course from the convenience of your home or office, you will discover key skills that are necessary to effectively coach and develop employees and team members, along with practical strategies for coaching and mentoring success.
Learning Objectives
Mentoring and coaching are key skills for professionals focused on delivering results through bringing out the best in people. If you are looking to learn how to maximize individual and team performance, you should attend this informative one-day program to unlock your coaching and mentoring potential.
Covering essential skills and best practices focused on teaching participants how to effectively coach employees and be a good mentor in the workplace, this one-day program provides key insights into how to effectively coach and mentor team members. Key focus areas include:
Coaching Basics:
Identifies the key differences between the "boss" mindset and that of a coach, including the do's and don'ts of coaching-focused communication
Mentoring Basics:
Covers the characteristics and responsibilities of being a mentor, including establishing expectations and setting ground rules
Motivation:
Learn tips for how to create an environment where employees are empowered to reach their full potential
Effective Feedback:
Hear proven skills for providing effective feedback in a coaching or mentoring relationship, including positive feedback (both appreciation and praise) and feedback focused on performance improvement
Coaching Skills For Mentors:
Master the do's and don'ts of coaching-focused communication to motivate mentees to achieve their potential
Relationship Management:
Define and develop the mentor/mentee relationship, including building trust and adapting to individual differences
Key Mistakes To Avoid:
Learn how to avoid the things that create barriers to coaching and mentoring success
Click
here
to see the full Agenda.
Whether you are a manager, supervisor, peer mentor, HR professionals, or other leaders whose roles involve mentoring, this course is for you. Sign up now for this convenient and affordable virtual training program so you can learn practical skills that you can immediately apply for powerful results.
Special Bonus: Earn 6 SHRM And HRCI Re-Certification Credits!
You earn 6 hours of SHRM and/or HRCI re-certification credits by completing this course.