The Safety Basics Seminar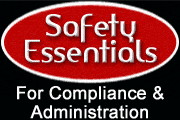 Seminar: ID# 1003854
Pricing: $695.00
About This Course:
Your Key To Knowing Safety Compliance And Administrative Requirements
Keeping up - let alone ahead - on all things safety requires TIME, especially with federal and state agencies focused on increased enforcement and penalties.
Here, in ONE day, you have direct access to a safety expert with essential information you need to protect you from the "safety unknowns" that can bury you in penalties, fines, and investigations.
For instance, do you know how to write an OSHA-acceptable Safety Plan? How to get an injured employee to Return-To-Work? What NOT to do during an OSHA inspection?
Don't wait for and OSHA Inspector to "teach" you. Arm yourself with Safety Basics and enroll today!
What You Will Learn
Keeping up to speed on all things safety can be difficult and time-consuming, especially with all the federal and state agencies now focused on increased enforcement and accountability. Get one thing wrong and you and your organization can be subject to fines and penalties - or having to deal with a death or serious employee accident.
As a result, managing and accurately complying with safety requirements can be overwhelming! But help is here: our Safety Basics Seminar is all you need to strengthen your safety program and stay in compliance!
Designed for anyone with safety responsibilities - from the small business owner to safety representatives and HR Generalists to front-line supervisors - this one-day seminar is packed with practical tools, tips, and techniques to help you succeed.
By attending, you will learn:
An overview of the laws and requirements for which you are held responsible
Which safety actions are required vs which are "nice to do"
How to go from putting out fires to managing safety
Effective strategies to develop and communicate your safety message
Steps to take now to minimize your risk of complaints and inspections
How to measure your successes without information over-load
What you need for records and how long you need to keep them
Plus, you also receive access to our OnDemand library for additional training on things like how to avoid recordkeeping mistakes, how to write a safety plan, handle a safety inspection, and more!
How This Program Works
Designed specifically for people who can't spend a lot of time away from the office yet need to know all of the pertinent rules, regulations, and compliance responsibilities, you get:
One day of face-to-face training that covers Safety's most important issues
Tips and examples of common errors and mistakes - as well as guidance on how to avoid them
Interactive Exercises that help you practice what you learn
Access to our OnDemand library of Safety-related specialty training courses that you can access whenever you need them, PLUS
The ability to get your questions answered directly from an experienced safety professional!
And when you couple the benefit of in-person training with the OnDemand library, you get an unbeatable combination. And just one tip from the seminar or the OnDemand library will save you many more times than the cost of enrollment!
Don't wait for safety issues, accidents, or inspections to come to the forefront, then frantically search for answers. Arm yourself with Safety Basics and enroll today!

You Also Earn CoC And PHR / SPHR Re-Certification Credits!
This program has been approved for and 7 re-certification credit hours through the HR Certification Institute and 0.5 points for CSPs.
For more information about certification or recertification, please visit the HR Certification Institute website at www.hrci.org. The use of this seal is not an endorsement by HRCI of the quality of the program. It means that this program has met HRCI's criteria to be pre-approved for recertification credit.