Sales Compensation: Design & Training Courses
Sales Compensation plans typically motivate sales employees by tying dollars to performance against measurable goals such as sales, quotas, territories, or other performance criteria that are aligned with those of the organization.

Sales Compensation plans typically pay salespeople a combination of salary, commission, bonus, or sales incentives. Properly structured, the value of executing a well-designed sales compensation plan is that organizations create a sales culture of high performance that serves as strong motivation for your sales reps, plus helps you recruit top producers, which ultimately will boost your bottom line.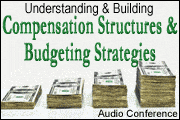 Creating an effective sales compensation plan is a challenging task. Each goal in the incentive plan must be constructed to assure payout given a certain level of performance. Employees must perceive the plan as realistic, and the goals should work in conjunction with the overall goals of the organization.

Plan designers should avoid setting goals that pay out for sales without regard to the quality or tenure of the new sales relationships. For instance, paying out high sales comp for a short-term customer relationship generally is not profitable in the long run.

Responsibility for designing these plans sometimes falls directly to the sales manager, but often it is a team effort that includes HR, upper management, and someone - either internally or a hired consultant - to set up the design and administration of the plan.

Bottom line, a well-designed sales compensation program should:
Increase sales results

Reduce turnover

Eliminate cost overruns

Improve morale

Align with company goals
Find Sales Compensation Training Courses

Use the search box below to find sales compensation training courses.