Earn Your Payroll Certification!
Payroll is more than just issuing checks. It includes many complex rules, procedures, and numerous regulations regarding how to define the employment status, pay for regular, overtime, travel, and fringe benefits, integrate vacation, PTO, and cafeteria plan deductions,

There also are regulations for handling garnishments, unclaimed paychecks, reporting, penalty assessments, amended returns, and other occurrences that are integral to your job but don't necessary occur on a daily basis.

As if that's not enough, the payroll professional has to answer to the IRS, your state(s) Departments of Revenue, Unemployment Insurance Divisions, Labor Commissioners, Worker's Compensation companies, Auditors, deal with specific forms and timelines, and handle questions from their own employers and employees!

A mistake - however inadvertent - can turn payroll into a legal landmine. But don't worry, you get can the training you need by earning a Payroll Certification!

And the good news is that Certifications not only improve your knowledge and performance levels, but also your pay. Use the Payroll Training Center to earn your Payroll Certification today!
Recommended Payroll Certification Courses
Certified Payroll Administrator

Our Certified Payroll Administrator training course covers all aspects of payroll, and includes training on how to:
Properly "classify" workers

Apply the various exemptions

Calculate gross pay and properly make deductions

Properly identify, pay, and withhold taxes for employees

Administer deferred compensation, cafeterial plan, sick pay, and other compensation

Handle stock options, expense reimbursements, relocation, and other "expenses"

Follow the proper policies, procedures, and documentation requirements for garnishments and levies

Properly complete and file all required reporting requirements

Correctly complete year end requirements and establish the year-beginning requirements

Implement and maintain audit, disaster recovery, and record retention processes and procedures
More Details / Order:

www.PayrollTrainingCenter.com/showBUDetails.asp?tcid=1000040

---

Certified Payroll Manager

The Certified Payroll Manager training covers all aspects of payroll, and includes training on how to: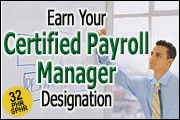 Properly "classify" workers

Apply the various exemptions

Calculate gross pay and properly make deductions

Properly identify, pay, and withhold taxes for employees

Administer deferred compensation, cafeterial plan, sick pay, and other compensation

Handle stock options, expense reimbursements, relocation, and other "expenses"

Follow the proper policies, procedures, and documentation requirements for garnishments and levies

Properly complete and file all required reporting requirements

Correctly complete year end requirements and establish the year-beginning requirements
Implement and maintain fraud, audit, disaster recovery, and record retention processes and procedures
More Details / Order:

www.PayrollTrainingCenter.com/showBUDetails.asp?tcid=1000041