Online Payroll Training Courses
The Payroll Training Center offers a variety of online payroll training courses. Because payroll is so broad and complex, each of the courses listed below is covers a specific aspect of payroll compliance and administration.




---
Online Courses
---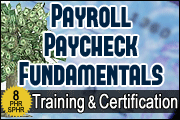 ---
Designations You Can Earn Via Online Learning
---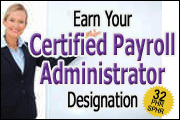 Payroll Training Webinars
We offer a wide variety of payroll training webinars that cover both broad and niche topics, including, garnishment, multi-state taxation, recordkeeping requirements, In-Pat/Ex-Pat, and more. To viw these courses, go to our Payroll Webinar Calendar and click on the applicable title(s) to see course specfics.