Incentive Compensation: Design & Training Courses
Incentive Compensation Plans, sometimes referred to as Bonus Plans, is a method of compensation designed to tie pay to performance. Such compensation plans can take the form of merit pay, bonuses, profit sharing, corporate stock ownership, or commissions.

Depending on the type of incentive compensation used, the target of the incentives could be individual employees, work groups, the organization as a whole, or a combination of all of the above.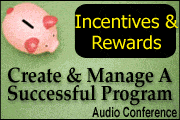 Bonus and Incentive Compensation Plans follow a formalized program based on predetermined goals or achievements. The purpose of Bonus and Incentive Compensation Plans is to encourage employees to exceed normal job expectations in support of departmental or organizational goals.

The need to align employee behavior and performance to business goals is the key driver prompting 87% of companies to use incentive compensation programs.

Incentive Compensation Plans can be an effective method for aligning employee behavior to corporate business goals. While variable compensation is the norm in managing the sales force to drive sales and revenue goals, more and more companies are using incentive compensation to motivate more employees, to reward exceptional performance, encourage customer satisfaction, and retain talent in order to meet and exceed corporate goals.

Management Of An Incentive Compensation Plan

Incentive Compensation management is the administration of sales incentives like sales commissions and service rewards. Incentive management also involves motivating the sales team, measuring their performance, and keeping accurate records of both sales and incentives.

Generally, sales executives are in charge of incentive compensation management as part of a larger sales management effort.

Sales managers understand that commissions, incentives, rewards, mentoring and quotas all work together to motivate sales teams. However, it can be hard to focus on non-monetary incentives like mentoring or basic motivational activities when managing sales commissions takes up a lot of time.

Incentive plans are common in companies, but satisfaction with them is not. Surveys of HR executives consistently show that incentive plans often do not live up to results.

A common complaint re Incentive Compensation plans is the time and effort spent calculating sales incentives and forcing managers to double check reporting, calculate commission payments and deal with incentive payment disputes rather than on their sales team performance. Additionally, disputes over sales commission payments can also be time consuming and morale busting.
Find Incentive Compensation Training Courses
Use the search box below to find incentive compensation training courses.