HR Basics Seminar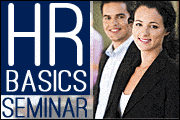 Seminar: ID# 1003853
About This Course:
Whether you are a small business owner or someone new to human resources, you¡äll find a ton of rules, regulations, and requirements.
For example: Hiring. Firing. Payroll. Employee Relations. Workforce Planning. Performance Management. Compliance with state and federal laws. Recordkeeping, Investigations. Safety. All of this, and more, is the responsibility of HR.
So...how do you keep up with all things HR without losing your sanity, negatively affecting your other responsibilities, or making costly compliance mistakes?
We have the solution: a one-day, comprehensive training program that gives you the needed training on the most important HR areas.
One Day Of Face-To-Face Training That Covers HR¡äs Most Important Issues
This one-day seminar helps keep you up-do-date on the latest best practices for the myriad of rules, regulations, and requirements that comes with HR.
The program includes:
One day of face-to-face training that covers HR¡äs most important issues
Tips and examples of common errors and mistakes - as well as guidance on how to avoid them
Interactive Exercises that help you practice what you learn, PLUS
Access to our OnDemand library of HR-related specialty training courses that you can access whenever you need them!
And when you couple the benefit of in-person training with the OnDemand library, you get an unbeatable combination. And just one tip from the seminar or the OnDemand library will save you many more times than the cost of enrollment!
---
Agenda
---
Hiring &Staffing
Background checks, orientation tips, applicable laws, and more!
Avoiding the common legal pitfalls surrounding hiring and interviewing
Should you conduct background checks? Reference checks?
Verifying your employees are legal: Completing the I-9 form
Orientation tips to get new employees off to a good start fast
Interactive Exercise: Completing The I-9 Form
Plus access to the following 90-minute audio training sessions:
Employment Law Basics / Compliance Requirements
Resources for complying with all of those state and federal laws!
State vs. Federal laws
Employment and Discrimination laws
Employee Leave Laws
How to recognize when it may be an FMLA request vs. "just being sick"
Balancing disabilities with business requirements
How to recognize the most common legal pitfalls that cause legal problems
What to do if an employee brings you news of harassing or discriminatory behavior
Can we implement an "English Only" policy?
The pitfalls and expense of retaliation
What you need to know about Social Media policies
Interactive Exercise: Integrating State And Federal Laws
Plus access to the following 90-minute audio training sessions:
Compensation & Payroll
Options and resources on where, when, how, and why, plus tips for handling the tough payroll questions
The difference between exempt and non-exempt
What wage information do we have to keep on employees?
When do you have to pay overtime?
Knowing when someone is an Employee or Independent Contractor
Handling wage garnishments
Keeping required time records
What deductions can we make to an employee¡äs paycheck?
Resources for evaluating compensation
Interactive Exercise: Basics Of Wage Garnishments
Plus access to the following 90-minute audio training sessions:
Performance Management &Workplace Safety
How to keep your employees happy and on track!
Setting the employee up to succeed
Documentation: either your best friend or your worst enemy
How to give and get effective feedback
What to do if an employee is struggling to do their job
Should you use Performance Appraisals?
What to do when an employee has an accident - even if it seems minor
How to refer employees to the EAP without making the situation worse
Interactive Exercise: How To Use A Performance Appraisal
Plus access to the following 90-minute audio training sessions:
Job Descriptions &Handbooks
What works, what doesn¡ät, and how to create them quickly and correctly
Why use job descriptions
How to write and update job descriptions
Do you need an Employee Handbook?
Required policies
Essential policies
Other policies
What is "At Will" employment?
Tips for writing a clear employee handbook
Preventing your handbook from becoming a legally-binding contract
The proper language for policy disclaimers
Interactive Exercise: Writing A Job Description
Plus access to the following 90-minute audio training sessions:
Recordkeeping
Training for what to keep where, when, and how!
Handling personal, confidential, medical, payroll, safety, immigration, investigations, leaves, benefits, and other Personnel Files
Where should employee files be kept?
Record retention issues: how long do you have to keep records?
Auditing your files to maintain legal compliance
Tracking attendance and monitoring leave law entitlements
Interactive Exercise: Required Records &Files: What Goes Where
Plus access to the following 90-minute audio training sessions:
Working With Other Departments / Managing Multiple Priorities Effectively
How To Be Productive - And Respected!
Establishing expectations for your job and department
Maintaining your line of authority
Managing your time and setting priorities
How to recognize - and avoid - things that can come back yo hurt you
Plus access to the following 90-minute audio training sessions:
Strategic Thinking
Tips for staying on track and helping to meet company objectives
Finding out what management thinks of the HR function
How to make sure HR is a Vital Function
How to ask for something you need - and get it
Plus access to the following 90-minute audio training sessions:
Wrapping-up: Developing an Action Plan
...and if all this great training isn¡ät enough, you also receive numerous links to supporting websites such as the DOL, the IRS, and others for quick looks and/or more extensive research when - or if - you need it!

You Also Earn PHR / SPHR Re-Certification Credits!
This program has been approved for 7 re-certification credit hours through the HR Certification Institute.
For more information about certification or recertification, please visit the HR Certification Institute website at www.hrci.org. The use of this seal is not an endorsement by HRCI of the quality of the program. It means that this program has met HRCI¡äs criteria to be pre-approved for recertification credit.
Order:
HR Basics Seminar
Price: $395.00
To order this product, find a location and date that is convenient for you under the "
Cities & Dates
" tab.
Qty: 2 - Qty: 5
$20.00
$375.00
Qty: 6 - Qty: 10
$60.00
$335.00