Attend A Workers' Compensation Seminar

Benefit from live instruction! The Payroll Training Center offers basic, intermediate, and advanced level classes to meet your every need!

Classes are available in multiple cities across the country. Click the applicable links to see Agendas, cities, and dates.


Recommended Workers' Compensation Training Seminars


Workers' Comp Training Seminar

Get Great, State-Specific Workers' Comp Training!

When an employee is injured at work, Workers' Compensation benefits are available to cover lost wages and medical costs related to the injury.

Whether those benefits spiral out of control or are properly managed depends on you - and your administrative prowess.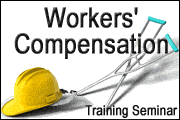 By attending this two-day seminar, you will learn:
Which workers are - and aren't - covered by Workers' Comp

What kinds of injuries and illnesses are - and aren't - covered by Workers' Comp

Your organization's rights and responsibilities for Workers' Compensation

The "whats", "wheres", "hows", and "whys" to successfully managing a Workers' Comp claim from injury to resolution

Tips for handling the interaction/overlap ADA and FMLA laws have on Workers' Comp claims

How to plan for - and prevent - certain types of claims

How to prevent injuries and facilitate a safe culture in your workplace

The signs of Workers Comp fraud - and how to prevent it from impacting your bottom line
Agenda:

www.payrolltrainingcenter.com/toc.asp?TID=se-1003657

More Details / Order:

www.PayrollTrainingCenter.com/showsemDetails.asp?tcid=1003657


---