Payroll Recordkeeping
Are you 100% certain that you are in compliance with federal and state payroll record keeping rules? Even a 1% degree of uncertainty can subject your organization to fines and penalties.
So why take the chance when you get get up-to-date with our payroll records and payroll recordkeeping training courses.
Training For Your Payroll Recordkeeping Requirements:
Payroll Records: What To Keep, What To Toss
This training session covers the rules for identifying, filing, retaining, protecting, and destroying your important payroll records. By attending, you and your team will learn: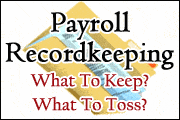 Which records must you keep - and for how long?
Recommended record retention processes
Do record retention rules vary by state, and if so, how?
How electronic retention rules differ from paper standards
How to know when it's safe to scan a document and dump the paper original
How and where to keep W2s, 1099s, payroll tax deposits, quarterly payroll tax returns, yearly summary reports to government agencies, and other year-end forms
How to handle special forms such as local tax forms, prevailing wage reports, government contract requirements, etc.
Electronic I-9s: How to comply with the strict new federal rules on completing, signing and retaining
The four steps you must include in your electronic I-9 program
How does the Lilly Ledbetter Fair Pay Act change the retention requirements for your payroll records?
Must payroll records be kept separate from HR records?
How to destroy records
More Details / Order:

http://www.PayrollTrainingCenter.com/showWCtDetails.asp?TCID=1000917
Designations/Certifications
Improve your knowledge and industry standing!

Continuing Education
CE courses to maintain your license or designation!

Professional Development
Products & Services to help manage and grow your career!

Need training or resources in other areas? Try our other Training Center sites:

HR, Acct., Banking, Insurance, Fin. Svcs., Real Estate, Mortgage, HealthCare, Safety, Sales